Audio Description
Captioning
Interpretation
Localization
Subtitles
Transcription
Translation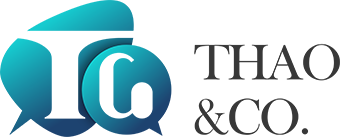 Thao & Co.
Website: ThaoNco.com (opens in a new window)
Email: vn@thaonco.com

We offer expert translation and localization of written materials, together with various linguistic services, such as interpretation, subtitles & transcription and voiceovers. Fast, easy, transparent process. Native speaker translators. Competitive rates.We translate in 30+ languages and are continually adding more. To ensure quality translations and expedient service, Thao & Company has invested in the latest translation technology.
Suggest An Edit
Are you familiar with Thao & Co.? Suggest an edit for this listing. Listings can include contact info, social links, embedded videos and more. Just let us know what you would like to include in this profile.
Share Your Experience
Are you familiar with Thao & Co.? Please share your experience and provide feedback to help others considering this service.
All feedback is vetted for authenticity before being published.
Request Feedback From Others
Use these share links to request others familiar with Thao & Co. also share their experience.