Mariquita Reese first started exploring the craft beer scene with her father, checking out new breweries together on the weekends, not long after her 21st birthday. Often, they'd walk into a taproom filled with white men. "At first it was really intimidating," she recalls. "Whenever we'd go places, we'd get some side-eye and some suspicion, like, 'Oh, what are you doing here?'"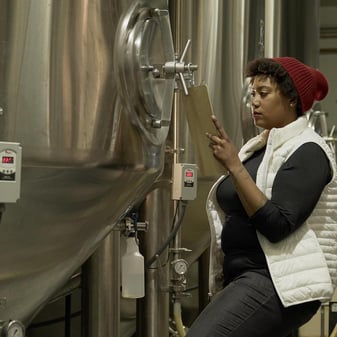 "But [my dad] being there with me made me feel safer and more confident and started to encourage my belief that I belonged there," Reese adds.
"We'd have these great meals and house-made beer, and it became our hobby," she recalls. "I became fascinated by the ingredients and how little changes to a recipe make a completely different product."
So when she decided to leave the banking industry and instead work with her hands, a brewing career was a no-brainer.
But as a Black woman, there were challenges: constant doubt cast upon her knowledge, gatekeeping, and more. She says, however, that working for a company like Sloop Brewing, located in New York's Hudson Valley, helped her build her confidence in her skills. Along with producing widely praised beers, Sloop also regularly and openly shows support for the LGBTQ community, the Black Lives Matter movement, and more, via special brews, community support, and even a social media presence that showcases women and people of color.
That is, in large part, why Reese spearheaded Sloop's Open Waters Internship Program, a diversity and inclusion internship seeking to dismantle the barriers to entry that prevent women, people of color, LGBTQ folks, and other marginalized communities from joining the brewing industry.
Conceptualized in the wake of last year's Black Lives Matter protests demanding justice for George Floyd, who was killed by a white police officer in Minneapolis, Minnesota, the Open Waters Internship Program will pay interns to learn the brewing process, from the early stages of recipe development through the packaging and distribution process. Interns are expected to complete 20 hours per week over a three-month period.
The goal is to increase access by giving people the paid opportunity to learn the technical skills necessary—which most brewers learn through unpaid internships. As part of Sloop's whatever-it-takes approach to diversifying the industry, it is willing to work around interns' schedules, Reese says.
Reese is intimately familiar with those barriers. She is the chairwoman of the six-person Diversity & Inclusion Committee at Sloop, and as a Black woman, she represents several oft-overlooked craft beer demographics: As of 2018, 31.5 percent of craft drinkers were women and 14.5 percent were non-white. Both of these demographic shares have grown over the years, each rising by one to two percent each year, respectively.
Barriers to Entry
Ask people to describe the typical craft beer drinker and it's likely they'll ultimately conjure the same image: a bearded white man donning a flannel button-down and sipping an IPA while contemplating the merits of Citra versus Amarillo hops.
Craft beer is a manly man's world, society tells us. Brewed by white men, and enjoyed by white men. It's an overused stereotype that belies the history of global beer production and consumption as well as modest—though encouraging—demographic shifts in recent years.
"European nonsense," Reese says of the conventional wisdom surrounding craft beer.
From a historical perspective, the white male stranglehold on beer culture is a relatively new development. Beer, in fact, used to be the domain of women the world over.
In Peru, women would make Chicha de Jora, a beer made from boiling germinated corn kernels and letting them ferment for several days. In Middle Ages England, alewives would wear tall hats to stand out in crowds and place broomsticks outside their doors to signal that there was fresh beer inside, an image eerily similar to what we would now recognize as a witch.
Deities of beer were almost always goddesses, whether the Sumerian goddess Ninkasi, or the Mesopotamian goddess Siris, or even the Zulu goddess of beer (and fertility) Mbaba Mwana Waresa. It was a German nun, Hildegard of Bingen, who discovered that hops—the dank flowers that give beer its signature bitterness—keeps beer fresh longer, and it wasn't until the 17th century, during the German witch trials, that the powers that be decided women could no longer brew beer.
That "European nonsense," however, has serious consequences: alienating people of color, women, LGBTQ folks, and other marginalized individuals who might otherwise be interested in learning more about craft beer—and brewing careers.
When you look at today's industry, the multicultural, dynamic history of beer has not only seemingly been erased but is being rewritten.
"There's a gatekeeping culture—mostly among drinkers," Reese explains. "They think they know what they're talking about, and they can make [beer culture] very unwelcoming."
Across industries and subcultures, gatekeeping—the act of limiting access to something—attempts to create a set of norms from which anyone who joins that culture cannot and should not deviate.
In the craft industry, that means protecting the image of the white male craft drinker, both consciously and subconsciously. This manifests in unwelcome stares when women and people of color enter taprooms, assumptions that people who look or act a certain way don't know beer, unconscious biases in the hiring process (especially for managerial roles), and an overall culture that feels unwelcoming to anyone who doesn't fit the expected mold of the Beer Drinker.
"Do I belong here?" Reese says in explaining how it feels to be a Black woman in a white male-dominated industry—both as a brewer and a drinker. "Is it okay that I'm here?"
BIPOC Make Up Small Percentage of Craft Beer Industry Workers
While craft drinkers are becoming increasingly more diverse, the brewing community is a different matter altogether. According to the Brewers Association's 2018 Brewery Operations Benchmarking Survey, which took a demographic screenshot of breweries around the country, it's evident the industry has a diversity problem.
According to the data, more than 88 percent of brewery owners are white, and 77 percent are male. As of 2018, there were no nonbinary or trans-owned breweries in the U.S. Of those who work at breweries, 89 percent of brewers are white and 92.5 percent are men. Where you see any kind of meaningful diversity is in non-brewing production (cellar operators, people working the canning lines, etc.), where almost 25 percent of employees are people of color, and in front of house service positions, where a little over half of non-managerial positions are held by women and about 20 percent by people of color.
That means the people who are making decisions about what their customers will drink, what to name their products, how to market them—are, by and large, white men.
Label art featuring over-sexualized women, racist and misogynistic social copy belittling movements like Black Lives Matter and #MeToo, and, most egregious, outright racist practices at certain high profile breweries. All of these problems arise from the homogeneity of who is brewing—and who they think they're catering to.
Decisions like these alienate potential customers—and possible brewers—cutting the industry off from entire revenue streams and even innovative ways of thinking.
The Business Case For Diversity is Well-Established
"[Improving beer] starts with marginalized communities being able to even occupy the space," Reese says.
Diversity in the workplace isn't merely the misty-eyed, unrealistic goal of a bunch of wokescolds. Decades of research show that having a broad coalition of experiences in the workplace—regardless of industry—is a net positive for productivity, creativity, innovation, a supportive working environment, and more.
Global consulting firm McKinsey & Company writes that the business case for diversity is undeniable: "[W]hen companies commit themselves to diverse leadership, they are more successful. More diverse companies, we believe, are better able to win top talent and improve their customer orientation, employee satisfaction, and decision making, and all that leads to a virtuous cycle of increasing returns."
New perspectives bring new ideas. It's shocking in its simplicity.
Increasing diversity requires deliberate equity and inclusion measures. After all, while many in the craft beer industry are not consciously excluding people of color, women, and queer folks, years of societal expectations and cultural assumptions have an impact on how we view people and their skillsets. That means consciously choosing to target people who are traditionally not represented and providing them opportunities.
"Just being able to step outside of yourself and your own experience and have some empathy and thought outside of your own demographic is powerful," Reese says. "It's very noticeable for people like me who are or were on the outside. It was very hard to step in, a lot of proving yourself to people who know less than you."
In order to thrive, Reese says, "We have to be able to see ourselves in the world."