A leader in advocating for inclusive employment shined bright recently at the Blind Institute of Technology's (BIT) annual Dining in the Dark gala.
Sarah Mark, Sr. Program Manager of Workforce Development for People with Disabilities at leading CRM platform Salesforce—an InclusionHub founding partner—was awarded the Diana Ferguson Diversity & Inclusion Champion Award, an honor bestowed on individuals who advocate for the inclusion of people with disabilities in the workplace.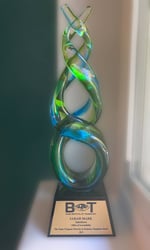 BIT, which works to improve employment within the disability community, celebrated Mark for her commitment to finding new and innovative ways to solve complex issues related to diversity and inclusion, particularly as it affects individuals with disabilities. Mark, who has established herself as a true Trailblazer in the two-plus years she's been at Salesforce, advocates for and champions the disability community daily, as she strategizes ways to move decision-makers to embrace D&I culture.
"The relationship between Salesforce and BIT, a Salesforce authorized training partner specializing in assistive technology, started off strong with alignment in values and mission, and has steadily grown over the past two years," says Mark. "It has been so thrilling to work with the BIT team because of their dedication and consistent willingness to take the next step in growing the pool of Salesforce talent by training people with disabilities. I was honored and humbled to be the recipient of their Diana Ferguson Diversity & Inclusion award; and recognize that none of these achievements would be possible without every member of the greater team in the Office of Accessibility [at Salesforce]."
The Diana Ferguson Diversity & Inclusion Champion Award, presented yearly at BIT's Dining in the Dark gala, seeks to recognize, celebrate, and honor an individual or organization's exceptional commitment to the inclusion of people with disabilities in the workplace.
Along with its ongoing collaboration with InclusionHub, Salesforce partners with BIT to strengthen the institute's initiatives to provide IT training, certification, and jobs for blind and low-vision professionals. Through the partnership, BIT trains members of the blind and low-vision community to become certified Salesforce administrators.
The Salesforce Office of Accessibility took major strides this year to raise its profile in the diversity & inclusion space. In addition to the incredible honor from BIT, The Workforce Navigators program—in partnership with Trailhead Academy—has announced a Trailhead Virtual Bootcamp scholarship program for skilled professionals with disabilities. Applications will open on October 25th with more details made public shortly. Questions can be sent to workforcenavigators@salesforce.com in the meantime!
And last, but certainly not least, this month Salesforce is celebrating Disability Employment Awareness Month (DEAM) by interweaving disability advocacy into the fabric of its daily initiatives.
For more updates about Salesforce's accessibility journey, follow along on Twitter at @SalesforceA11y, or visit its dedicated Accessibility Website.