When discussing diversity, equity, and inclusion (DEI), Christopher Patnoe never imagined he would work at Google.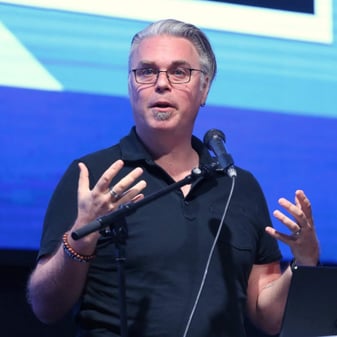 The self-proclaimed "failed musician and opera singer" originally dreamt of a stage career. Like many twenty-somethings armed with a passion and a dream, he said music—and the connection he had to it—captured his fancy. However, like many starting in their careers, he realized an alternative path was more likely.
"When it came to pursuing a career in music, I was good enough to think about it, but not good enough to do it," he explains.
At the urging and support of friends, Patnoe gravitated toward technology, working with hardware and software services at Apple. He moved to Sony, where he designed phones, and then spent a year at Disney creating games.
He initially joined Google in 2012 to design data center hardware. However, it wasn't until he became Google Music's technical program manager that he was able to combine his life-long passion of music with one he recently discovered—accessibility.
His first real glimpse of the need for accessibility at Google—and life in general—came during a meeting with an accessibility tester.
Hired by Google Play's music division, the tester, he says, ensured the music streaming service, which also did podcasts, was more accessible for vision-impaired individuals.
"More than 15 years into my career, and I finally heard the word 'accessibility,'" he says. "I had never thought about it, and I realized within a few months that this is something I wanted to fix and be part of the solution. It doesn't happen by itself."
After transitioning to Google Play, where he also took on a 20-percent accessibility role, Patnoe offered that same tester a position as the group's program manager.
"I hired her on my team to teach me what I needed to know, so I could do this well," he says.
Just prior to his current position, Patnoe spent time at Google Daydream, with the intention of bringing accessibility to the firm's now discontinued augmented reality and virtual reality (AR/VR) platform.
"The technology [AR/VR] was too early for that time," he says.
Patnoe assumed his current position as head of Google's Accessibility Programs and Disability Inclusion in 2019. He's currently part of a triad team of engineering, design, and programs—all of whom report to Eve Anderson, Google's director of accessibility.
"My job is to ensure all of Google's products are accessible," he says, "and also that Google is the best place to work for people with disabilities."
It's a distinct change from a few years ago when diversity, equity and inclusion (DEI) wasn't nearly as ubiquitous.
"I hadn't even thought about that [DEI]," Patnoe explains. "I was in this white, male privilege space in Silicon Valley, and I didn't really know it was a factor. Of course I knew about everyday things like closed-captioning, but it didn't occur to me on how to make products to work for people with disabilities."
Patnoe often reflects on his original DEI self-discovery when he first joined Google nine years ago. He's especially proud of the work he and his team have done regarding corporate culture changes, underscored by the fact that conversations now are less about "why" something should get done but "how" it can be accomplished.
"I think there's more of a buy-in on both the accessibility and DEI sides than there was 20 years ago," Patnoe says. "We have more dedicated resources in our people operations, and when it comes to hiring, we have individuals in place to handle things specific to accessibility, and that's just a pleasure to see."
Patnoe says these changes also comprise inclusivity within Google's People Operations processes. This includes a dedicated website for candidates requiring accessibility measures during the application, interview, and hiring process.
"Our process is inclusive and equitable, and I'm really proud of the work this team has done," Patnoe says.
DEI is something Patnoe has also discussed at various conferences, workshops, and live events. Due to novel coronavirus (COVID-19) travel restrictions, most of his speaking engagements are now conducted virtually from his Palo Alto, California, residence.
Still, when it comes to the messaging he hopes to convey, Patnoe says it boils down to three things:
Leverage Your Strengths
Never About Us, With Us
Start With One
"Work with people in the community, not for people in the community," he explains. "If you start with one, you can solve a problem for one person, and this problem can be expanded for other people. You never want to do anything for people, you want to do it with people."
Patnoe adds that although DEI initiatives have progressed over the last two decades the pace has especially quickened over the last three to four years.
"It's important to recognize how far we've come, but also how far we have to go," he says. "If you look at only what's broken, it's much harder. But if you have done good things and continue to do so, it's much easier to continue than it is to start. That type of momentum is magic, and it makes it easier to do that next best thing."