When discussing her Diversity, Equity, and Inclusion (DEI) journey, Becky Kekula immediately notes how she's reminded every day of her disability.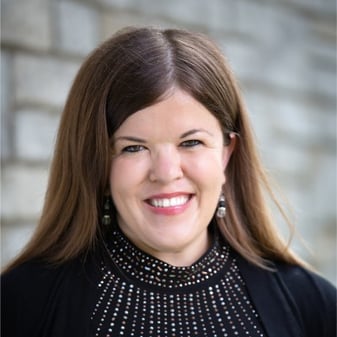 That's because she's frequently asked to clarify how to address her disability or which terms are appropriate to use.
Kekula admits she'd rather people just refer to her simply as Becky.
"I'm fine with [the terms] dwarfism or little person," Kekula says. "Everyone has different preferences. However, I do prefer that people just call me by my name."
Raised in Boston, Kekula was born with a condition known as achondroplasia, the most common form of short-limbed dwarfism. Standing 4 feet tall, she was taught by her parents to always maintain a positive attitude—regardless of what anyone said.
Growing up with a disability didn't deter Kekula from doing any of the things she loved, such as skiing, sailing, soccer, and swimming. When asked to discuss her general outlook, the response is always consistent:
"I never want to change, but I want the way the outside world reacts to my difference to change."
Faced with the perceptions and stereotypes often accompanying the more than 30,000 individuals living with dwarfism in the United States, Kekula's professional journey began with trying to make a difference within the appearance-driven entertainment industry.
Utilizing her marketing degree from Providence College, Kekula sought to change the lack of DEI representation and physical stigmas within Hollywood.
Starting with positions in both the entertainment marketing and comedy touring departments at Los Angeles-based talent management firm Creative Artists Agency (CAA), she immediately dove into her work, crafting strategic marketing plans for clients such as Coca-Cola, Harley-Davidson, and eBay.
"I started out by learning the industry, and just focusing on the job," Kekula says. "I didn't voice my passions [about DEI] right away because I wanted to gain credibility and experience first and foremost."
A few years later, Kekula landed a job at CBS Studios casting primetime television shows, such as "Blue Bloods," "Criminal Minds," and the "CSI franchises."
"I wanted to change what we see in the media, because it affects how people are treated in society," she says. "I tried to get my hands on every script possible to figure out how, if a role called for a doctor, that maybe it could be portrayed by a person of color with a disability," she says.
Despite her valiant efforts, Kekula says DEI wasn't something network television was quick to embrace.
"Unfortunately the casting world [at that time] wasn't quite ready for what I wanted to do," she says. "Being new in my role, I felt my voice didn't matter quite as much as others who had been there for awhile. It was frustrating because there were writers, producers and directors open to my ideas, but the casting directors were more hesitant to shake things up."
Kekula eventually fueled her DEI passions at The Screen Actors Guild-American Federation of Television and Radio Artists (SAG-AFTRA) Equity & Inclusion Department. Headquartered in New York City, the labor union represents approximately 160,000 film and television actors, journalists, radio personalities, recording artists, and others in the entertainment industry.
Kekula's department monitored discriminatory employment practices, while also increasing DEI.
"I advocated on behalf of full inclusion and opportunities for people in all underrepresented groups in all aspects [of DEI]," she says.
Her experience at SAG-AFTRA led to her current position with Virginia-based Disability:IN, where she serves as director of the Disability Equity Index.
"My role at Disability:IN is something I am really proud of," she says. "For the last three years, I've worked on index benchmarking tools that companies take to measure how they're doing when it comes to internal DEI."
According to Kekula, the number of participating companies, such as Lowe's, Southwest Airlines, and Microsoft, has more than doubled from 110 in 2017, when she joined Disability:IN, to almost 250 in the last year.
Kekula's Disability:IN experience has been rewarding to see some of the world's most prominent organizations understand and embrace DEI.
"Companies who are inclusive of people with disabilities statistically perform better financially, and to me that's a huge deal because it contradicts how Hollywood assumes hiring individuals with disabilities won't lead to meeting box office requirements, or it's not going to be good for business," she says.
The 2020 Disability Equality Index Report by Kekula and her team confirms hiring people with disabilities can strengthen an organization's team and revenues.
It further cites accompanying data from professional services company Accenture detailing how "companies that offered inclusive working environments for employees with disabilities" on average generated higher revenue, greater profit margins, and twice the net income for employees compared to their peers.
"It helps the bottom line if you give people with disabilities a chance to participate in a meaningful way," she says. "It's also very possible that all of these companies are then becoming really good in all other areas because they've made DEI a focus."