Will Butler wouldn't trade his position as VP of community at Be My Eyes, a free app that connects blind and visually impaired people with sighted volunteers, for anything.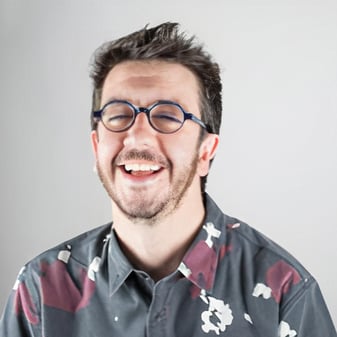 Butler takes time out of his day to read the Be My Eyes feedback channel on the corporate messaging app Slack, and often comes away inspired.
"I've learned every blind person has a different relationship with independence, and with what it means to be supported," he tells InclusionHub. "Some people are radically independent, and some people love connecting with other people in order to have their needs met. And I wouldn't judge anybody on any point in that spectrum."
"That has been eye-opening because a lot of blindness groups have very particular perspectives about independence, and what you need to achieve as a blind person and what you need to do to prove yourself," adds Butler, who also hosts Be My Eyes' "13 Letters" podcast, which addresses accessibility.
According to the World Health Organization (WHO), an estimated 1 billion people suffer from an unaddressed or previously preventable form of visual impairment, the majority of which are over the age of 50. Be My Eyes is the largest online community of blind and low-vision people in the world, with nearly 300,000 users and more than 4 million volunteers. The Be My Eyes mobile app enables sighted people to support those in need, whether it's describing a televised event or navigating a grocery store.
It's through this community that Butler hears the personal accounts of people overcoming challenges associated with their disability. Of course, Butler has his own story about acceptance and perseverance.
Butler, declared legally blind at 19, got his professional start as a club editor for an alternative newsweekly in Oakland, California. The position afforded him to do what he loved—review albums and local concerts, the quintessential dream gig for any aspiring music journalist. He kept his blindness a secret.
"I was not talking about it. I was walking around, as one does, trying to seem normal," he says.
Butler eventually traded his editor role for a future of uncertainty traveling and doing some serious soul-searching.
In 2014, Butler wrote a moving piece in The New York Times Magazine about the struggles of publicly displaying blindness and using a white cane to get around.
"Once, alone and lost in downtown Washington, I unfolded it, immediately sweating as I felt hundreds of eyes shift onto me," he wrote. "A man who was panhandling grabbed me and showed me the way home."
"It made an impression, but it wasn't enough to sell me on it," Butler continued. "The cane stayed in storage. To me, it signified defeat, so I kept it out of sight at college, social events, job interviews—everywhere."
Once he started using the cane, however, Butler said he felt a sense of empowerment. It was like "a key to opening a new door," he recalls.
That article caught the attention of Lighthouse for the Blind and Visually Impaired's CEO Bryan Bashin, who offered him a position with the nonprofit. That's when his path became a little more clear.
"[Bashin] painted a picture of how we can really advance the world, culture, society, technology...to make the experience of people like him and me easier," Butler says. "And for the people who go blind, when they turn 19, after me, won't have such a struggle. And so I found that compelling."
In 2015, the Danish founders of Be My Eyes visited Lighthouse, explaining how the app had exploded in popularity but needed help attracting blind and low-vision users in the United States. Lighthouse became an investor, and Butler maintained an advisory role before formally joining Be My Eyes in 2019.
"I'm glad that...for the very social, community-oriented people, we can be an unlimited resource," Butler says. "And for the very independent, and sort of rugged individualists, we can be there as a trusted backup."
As much as anything, Be My Eyes underscores to Butler the power of community support—serving as a beacon of hope and inspiration for millions of users across the globe.
"Adopting the cane was just the first step for me. And really, the second step was learning the value of the blind community," Butler says. "And I talked to a lot of blind folks for the podcast, all amazing people, and they have taught me so much that I can't even begin to—I mean, if I tried to write the credits list, it would just go on and on and on. You know, hundreds and hundreds of blind people I've met over the years, who have taught me so much."
"And I'm trying to sort of pay that forward and deliver that community to our users as much as possible," he continues. "Because accepting yourself is just the first battle you have to fight as a blind person. No matter how much you love yourself, and how much you accept yourself, you're always going to deal with the public's perception of you. And that's sort of the harder part. The only way to contend with that, as far as I can tell, is to hear the perspectives of other people who know what you're going through...And I just don't think you can do it alone."
Editor's Note: Be My Eyes is an InclusionHub founding partner.