Shani Dhanda is a disability rights activist and public speaker based in the United Kingdom.
She founded Diversability Card, Asian Disability Network, and Asian Woman Festival. Diversability Card is a discount program for people with disabilities, who frequently have higher costs of living due to their conditions. Asian Disability Network provides support for those navigating disability with cultural and ethnic identity. Asian Woman Festival recognizes and empowers Asian women with workshops, panels, art, performances, and more.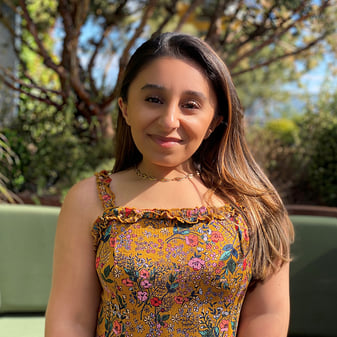 "All these three initiatives...empower underrepresented communities," says Dhanda. "They're all things that I wish existed when I was growing up."
Dhanda has osteogenesis imperfecta, also known as brittle bone disease. By the time she was 14, this rare genetic disorder had caused her legs to break six times. Her compromised bones coupled with her 3-foot 10-inch stature have forced her to make adjustments throughout her life. Societal attitudes frequently posed an additional barrier.
"I'd had a certain amount of negative experiences, and I wanted to change those," Dhanda says. "I'm a really big believer in being the change that you want to see."
Having faced roadblocks in the path to her success, Dhanda is now committed to improving the lives of others confronted with similar hurdles.
According to a report by the social change organization Joseph Rowntree Foundation, over half of those in poverty within the United Kingdom are either sick or disabled.
"The only way to get yourself out of poverty is based largely on your capability to work," says Dhanda. "If you can't work because of your health, if you're not given the opportunity to work, then how can you change that?"
Those with disabilities who can work face additional barriers beyond their conditions, typically needing to apply for many more jobs and facing a significant pay gap once in a position.
"It's just inequality after inequality after inequality," says Dhanda.
Culture can also play a role in the treatment of those with disabilities. While one study suggests that Indians in the United Kingdom may be more prone to developing disabilities than the broader population, the British Asian web magazine DESIblitz reports that stigma still surrounds disability in South Asian communities. Many people with disabilities suffer abuse and taunting that takes a heavy toll on their self-confidence.
While there is still a strong need for change, Dhanda has made great strides through her work, earning a spot on the Shaw Trust Disability Power 100 2020 as one of the most influential disabled people in the United Kingdom and the BBC 100 Women 2020 as an inspiring and influential woman.
All of Dhanda's initiatives are on track to improve the lives of underrepresented people. Diversability Card aims to launch within a year, the Asian Woman Festival has expanded and temporarily moved online, and the Asian Disability Network continues to connect disabled South Asians and their allies. Through her organizations, Dhanda aims to create real change and promote education, which she views as critical to greater inclusion.
"People don't understand that the decisions they make either lower or raise the barriers to participation, so I think education is a really big key but it's also a challenge," says Dhanda. "I hope people realize it's not a 'them' and 'us' situation...We are all in it together."
Dhanda also sees opportunities for online retailers to benefit from inclusive practices.
"Disabled consumers are massively overlooked, and people don't know the spending power," she says.
The Click-Away Pound report examines the cost of ignoring disabled shoppers, estimating that online retailers in the U.K. miss out on over £17 billion per year in lost business from barriers that prevent disabled customers from completing purchases online.
"I think digital inclusion can be the gateway to people accessing things that they can't in a physical way, but there are so many barriers that exist," says Dhanda. "When you do design for the needs and preferences of disabled people, you will meet the needs and preferences of a large majority of people."
As people are living longer and developing chronic conditions, designing to accommodate those with disabilities may also one day support the aging population.
"We are all going to change; all our needs are going to change," says Dhanda. "Why not future-proof that with the decisions that you make, the products you design, and the spaces that you build?"