Regine Gilbert is an accessibility advocate, user experience (UX) designer, author, educator, and public speaker with 10 years in the technology arena.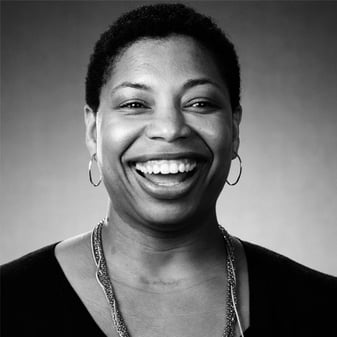 She teaches UX design as Visiting Industry Assistant Professor at NYU's Tandon School of Engineering and who wrote the book "Inclusive Design for a Digital World: Designing with Accessibility in Mind," which was published in 2019 through Apress.
Gilbert, who has worked with Disney, JP Morgan, Columbia University, Ralph Lauren, and other major organizations, began focusing on inclusive design after an A11y NYC Meetup, where she met two friends who were blind. When Gilbert said she was a UX designer, one asked if those in the industry thought about people like her when making design decisions. She thought about previous projects and the designers she'd collaborated with and realized that the answer was "no." She vowed to think of her friend when working on future projects and spread the word to others in her professional orbit.
Gilbert has since promoted inclusive design through her writing, teaching, and public speaking.
She is now exploring the role of accessibility in immersive technologies, including augmented and virtual reality.
Visual, hearing, motor, and cognitive differences affect how users interact with digital media. For instance, those with visual impairments browse social media using accessibility tools and individuals with hearing impairments enjoy online videos with the help of closed captioning. The CDC estimates that 26 percent of adults in the United States have some type of disability, but many digital assets have not taken this into account, so some resources that many take for granted may be completely inaccessible to others.
Gilbert likens it to a common situation most people experience, asking: "Have you ever wanted to go somewhere and couldn't get in, and how did that make you feel?"
Confronted with such a scenario, most individuals would undoubtedly recognize that it is not a good feeling.
"Why would we do that to someone else?" Gilbert adds.
Additionally, diminished hearing or vision is something that people may experience over time, which underscores the importance of implementing inclusivity standards.
"I'm hoping that we not only make things more accessible and inclusive but also think about making stuff now for our future," Gilbert says.
That being said, history has shown that users with and without disabilities can both benefit from assistive technology, like screen readers and texting.
While digital exclusion remains common, Gilbert has been excited to see increased interest in accessibility over the last few years.
"Now people really have a better understanding of what accessibility is, what the needs are, and are a bit better about incorporating it into their work," Gilbert says. "However, there is still the missing component of involving people with disabilities in the process and not just having them at the end to test something but giving them the jobs."
Gilbert points out that the novel coronavirus (COVID-19) pandemic may ultimately open these doors. With more companies allowing work-from-home arrangements, businesses that previously viewed in-person work as essential may realize that people with disabilities who may not be able to go into an office can work just as effectively from home.
Global Workplace Analytics estimates that 7.1 percent of employees with disabilities worked from home before the pandemic. With a projected 25-30 percent of the total U.S. workforce working at least partially from home by the end of 2021, the number of home-based employees with disabilities is also likely to skyrocket.