Ever since his now-famous blog post calling for greater awareness around digital accessibility, Joe Devon, a developer by trade, has become a fixture in the ever-growing movement.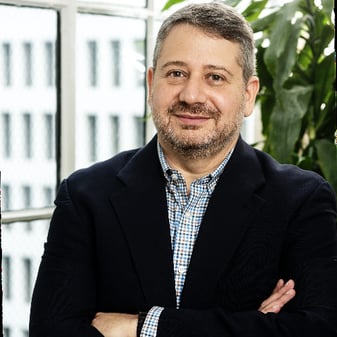 The seemingly innocuous WordPress post airing his frustrations with accessibility online, or lack thereof, led to a positive outcome: The rise of Global Accessibility Awareness Day (GAAD), the annual event he co-founded and which celebrated its 9th anniversary this year.
Devon is also a founding partner of the Los Angeles-based digital agency Diamond, which as you'd expect prioritizes accessibility.
As for GAAD 2020, the digital event had a Twitter reach of 200 million people and the top tech companies in the world were active participants.
"It's just untrackable at this point for us," Devon says of its overall reach and influence.
Despite being deeply entrenched, Devon is in no way trying to plant his agency's flag at the top of the corporate a11y mountaintop. His mindset: The more firms embracing a more navigable internet the better.
"It's not as much about standing up above the competition as it is just doing it the right way," he says, adding that he lives by the tagline: "Make accessibility as ubiquitous to software development as the Agile methodology is."
Accessibility takes time
While accessibility has always been in Diamond's corporate DNA, it took years for the firm to meaningfully grasp the practice.
"We didn't start out full-stack, we did a lot more like API and database work, a lot of back end work," Devon explains. "So that required a lot less accessibility. And then as we started to go full-stack and brought in design and UX, and did a lot more front end work...it kind of required more accessibility."
"It was definitely a process," he continues. "And then we also had to be able to afford full-time accessibility subject matter experts, which definitely upped our game a lot."
Speaking of adding talent, Diamond doubled-down and created a director of accessibility position, buttressing its efforts even more.
While Diamond may be ahead of the curve, evidenced by its investment in such a high-level position, Devon notes that firms need to begin somewhere. The first step, he says, is to develop an accessibility-aware budget and present the benefits to clients.
Education key to digital accessibility
One thing Devon makes clear is that accessibility requires education. Diamond helps its employees take accessibility courses and organizes internal "lunch and learns"—a sort of communal sharing of accumulated knowledge.
The agency also has its accessibility specialists meet with specific teams to embed these practices even further.
Devon likens the strategy to a "top-down and bottom-up approach."
"When you hire, you have to make sure that your staff cares about accessibility, that they know that you care about accessibility and that you care about it from the top," he says.
Devon acknowledges that "nothing is 100 percent accessible" but the ultimate goal is to constantly improve, which goes both for products and the teams that bring such things to life.
Moving forward, Devon would like to see an Americans With Disabilities Act (ADA) 2.0 of sorts that would provide a much-needed blueprint for the digital world.
"Once we have that guidance from the top, then I think the industry will have a foundation to do this right," he says. "And then the lawsuits that come will be done on a better basis. I hope it'll be less drive-by kind of lawsuits."
"There's a ton of work to do," he adds. "We're still far away."