This month marks the 10th anniversary of Global Accessibility Awareness Day, which is celebrated annually on the third Thursday of May.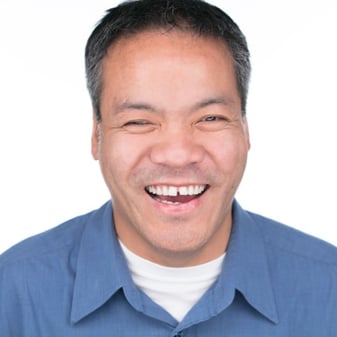 Dedicated to promoting digital access and inclusion for the more than one billion people globally with disabilities and impairments, GAAD is a day-long effort featuring events and activities highlighting digital inclusion.
Jennison Asuncion co-founded GAAD with Joe Devon to make inclusive design and development more ubiquitous.
The event, which now includes some of the biggest tech companies in the world, only happened because Jennison accidentally came upon a blog post by Devon demanding a global day for developers, like himself, raising awareness about the needs of users with disabilities.
In addition to co-founding GAAD, Asuncion serves as co-director of the Adaptech Research Network and as a member of the boards of directors for Knowbility, Accessible Media Inc., and LightHouse for the Blind and Visually Impaired San Francisco. Asuncion founded the annual (and still going strong) Accessibility Camp Toronto in 2011 and Accessibility Camp Bay Area in 2014, two free events drawing designers, developers, and other tech workers as well as end users with disabilities for a day of learning and networking.
To regularly build community, he co-founded the Toronto Accessibility and Inclusive Design Meetup and the Bay Area Accessibility and Inclusive Design Meetup (A11yBay). In celebration of GAAD's 10th anniversary, the A11yBay Meetup is partnering with accessibility and general tech Meetup groups around the world to create the largest Meetup on accessibility and inclusive design on May 20 from 4:30 p.m. PDT to 6:30 p.m. PDT.
As a digital accessibility advocate, Asuncion's career began in 2006 when he joined the Royal Bank of Canada (RBC) IT accessibility team. In this position, he consulted across the organization to enhance the usability of digital mediums for those with disabilities. In 2013, he joined LinkedIn, where he is now the Head of Accessibility Engineering Evangelism. Last June, Business Insider named Jennison one of 30 "power players and rising stars" who would help newly appointed LinkedIn CEO Ryan Roslansky lead the company.
In recognition of his accessibility efforts, Asuncion received a Queen Elizabeth II Diamond Jubilee Medal in 2012, which was awarded to those who made "significant contributions" to the country, and the 2018 Stephen Garff Marriott Award from the American Foundation for the Blind. He was also named to Diversability's inaugural D-30 Disability Impact List in 2020, which coincided with the 30th anniversary of the Americans with Disabilities Act (ADA).
His interest in digital accessibility began the summer after he graduated high school when he participated in Summer Computer Opportunities in Recreation and Education (SCORE), an initiative run by the Toronto-based CNIB Foundation, which exposed blind and visually impaired Canadian youth to assistive technology, such as Braille displays and screen magnification software. As a college student, he volunteered to train students with disabilities how to use computers, and his passion for accessibility continued from there.
"Observing others who had never had a chance to use technology such as screen magnification software or a Braille display before, was a profound experience for me," Asuncion told accessibility firm Equal Entry.
While the CDC estimates that 26 percent of U.S. adults have a disability, digital platforms frequently fail to make their services fully accessible. Conditions may affect how a person uses the internet, native mobile apps, and other digital tools, so resources that are developed without inclusive design principles and associated coding techniques (all based on the Web Content Accessibility Guidelines (WCAG) may be inaccessible to a sizable portion of the population.
Since many digital resources rely heavily on visuals, the blind and visually impaired may be especially excluded.
Those who are blind can use assistive technology like screen readers and/or refreshable Braille displays to access digital resources, but the underlying code of many websites and native mobile apps—and even the layout of content—do not always work well with these devices due to cluttered page designs, pop-ups, lack of keyboard operability, interactive elements without labels (a screen reader user would only hear, for example, "button"), and other issues.
Given the importance of digital resources to daily life, non-inclusive design effectively takes away a visually impaired person's ability to fully participate in the modern world as a sighted individual. They may be unable to access entertainment, shopping, news, and job-related resources.
According to the World Health Organization (WHO), an estimated 2.2 billion people around the world are affected by blindness and/or visual impairment, making Asuncion's work especially critical.
Though not all product managers, designers, and engineers are familiar with adaptive hardware, such as a switch device that could be used by people with motor impairments, or software that enlarges what is on the screen, for example, Asuncion has found that many are curious about how those with impairments or disabilities interact with websites and apps, suggesting an opportunity for future progress. More often than not, Asuncion mentions, once the average product manager, designer, or engineer observes how complicated it can be for users with different disabilities or impairments to navigate through and interact with what they have built, a green light goes off and they strive to do better.
However, there is still much work to be done. For instance, many commercial aircraft either do not have physically discernible flight attendant call buttons or rely on a built-in touchscreen (that does not have a screen reader built-in), making these important communication tools inaccessible to the visually impaired. This presents both an accessibility and a safety issue. People with disabilities want to relax and have fun, too, and Asuncion has noticed similar accessibility issues at casinos on the Las Vegas Strip, which use touch-screen slot machines. "I guess no one wants my money," Asuncion remarked.
Even basic internet tools are out of reach for many people with disabilities, so it's important to recognize how conditions can affect users.
"I would not be doing my job as an accessibility professional if I focused strictly and exclusively on issues that impact people who are blind or visually impaired," Asuncion said on the first episode of "All Access with John Samuel."
"It's important to understand those other disabilities and impairments and what the impacts are," he added.
Several recent court decisions have asserted that certain websites must comply with ADA accessibility standards even though ADA was released before the digital revolution. The ability to reach a broader audience combined with the added motivation of these court rulings should encourage organizations to embrace inclusive design principles in years to come.
"I'd say accessibility is going to become a lot more personalized in the next number of years," Asuncion predicted in The Great Grommet Podcast. "But there's always a danger...I have a feeling if we don't all work together we're going to have more digital barriers."
To participate in GAAD, individuals can perform manual testing of their site or app by using the keyboard alone to perform one or more important transaction flows with the tab, arrow, and/or enter keys, among other tests. Additionally, developers can use any number of free accessibility test automation tools, such as Microsoft's Accessibility Insights for web, Windows, or Android; Evinced's suite of tools); then, they can either file accessibility bug tickets or go ahead and close them on the spot. People could also caption or transcribe a video, write a blog post on accessibility, create a video highlighting assistive technology, or attend a GAAD event.
Get involved in Global Accessibility Awareness Day (GAAD) to learn more about supporting digital access and inclusion for the over one billion people with disabilities. Jennison is also active on Twitter via @Jennison, @a11yevents, and @a11yjobs, and he welcomes an opportunity to connect with folks onLinkedIn, especially with people interested in learning about how to get into and grow within the digital accessibility industry.