When Jennifer Brown's career in music took an unexpected turn, she set out to find harmony in the workplace through diversity, equity, and inclusion efforts.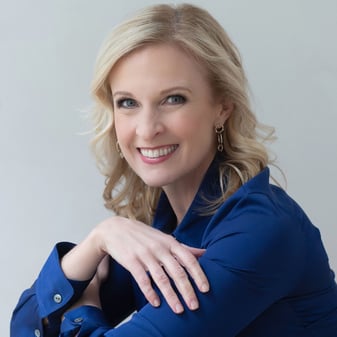 "I ran into vocal trouble and as a singer, I realized that obviously it would not be a sustainable career or manageable or even realistic," Brown says about coming to terms with the life-altering moment in her 20s. "But there was connective tissue between that and my next move."
Brown's next move landed her in the world of human resources, where other former performers in her network had gravitated. In the HR field, Brown was able to utilize her highly curious nature and her propensity for leadership, learning, and, perhaps most important, empathy.
Then, after some time on the corporate path, followed by a turn in insurance and the fashion industry, Brown came to the conclusion that she was too independent minded to merely be someone's employee. As a woman and a member of the LGBTQ community, Brown knows all too well how some individuals are forced to minimize or hide aspects of their true self in the workplace. In response, she made it her mission to confront this fear of not being fully embraced, and stop it at the source.
After receiving her Master's in Organizational Development from Fordham University, Brown founded Jennifer Brown Consulting in 2005. Now, her and her team of galvanized inclusion experts advise Fortune 500 companies on how to build more inclusive workplaces and inspire those in leadership positions to welcome, value, respect, and listen to all types of talented people, no matter their orientation or gender expression.
"From a representation standpoint, particularly in leadership, we do not represent that world. We are largely straight, white male cisgender," says Brown. "
That's kind of who built the business world traditionally, who had the most opportunities to do so. And so I like to say the workforce today that we're laboring in wasn't built by and for most of us, frankly."
Brown has built an impressive client base, which includes Walmart, Starbucks, Toyota Financial Services, Microsoft, the City of New York, T-Mobile, and many others. She believes organizations of all sizes can simultaneously meet today's ethical standards and set themselves up for long-term success by synchronizing their personnel infrastructure with the world at large.
"We used to talk about D&I (diversity and inclusion) as just gender and race and ethnicity for years and it was driven by requirements and was viewed as a compliance exercise, sadly," she says. "It was driven by lawsuits and threats. That's changed. There's now a business case for diverse talents of all kinds. And it's not just about recruiting people, but retaining them—and that speaks to the culture and the environment you're bringing them into."
Workplaces, according to Brown, need to reflect the diversity of the world where companies interact with stakeholders, which encompasses vendors, partners, clients, B2B and B2C. And change cannot merely be on a superficial level, but rather, leaders must express an understanding of the problem and a commitment to fundamentally changing the work environment.
"You are being challenged to do this in a real way. D&I has shifted to diversity, equity, inclusion, and accessibility," she says in describing the mission-critical approach that companies must have in rebuilding the workplace. "Accessibility is for people with disabilities, but also for people with all abilities, right? What's good for that community is good for all of us."
Brown adds that it's likely to be the next generation of leadership that will inspire—or force—today's managers to fully embrace corporate inclusion. In a thought paper she wrote on reverse mentoring titled, "Reversing the Generation Equation," Brown argues that we need to flip our assumptions about where knowledge lives in an organization and trust that millennials can impart wisdom to the older generations we typically see in leadership roles.
"The warning to older generations who are still in power is, we need to wake up and catch up," she says. "We are the least diverse generation in the workplace, so we're going to know the least from a lived experience. So, the catch up is not just stepping up our game, but crossing the chasm of difference and learning about an experience that we don't have any native understanding of, and we've got to do it quickly."
Brown continues to work toward building the modern workplace into an environment where all are welcomed and valued—and where corporate leaders will not only listen to the chorus of change, but heed its inevitable crescendo.
"One-in-five people under the age of 35 identifies as not straight and not cis. That's your talent pool and that's your customer base," says Brown. "Invite more perspectives, more experiences. As our customers change, you need to understand who they are, who they buy from, who they have community with, and what the dynamics are in their community. You need to be able to speak to those and not just superficially, but really have an element of respect for it."