Eric Eggert's journey to becoming an accessibility expert started when he was 15 years old, and he's devoted most of his adult life to improving the web for everyone—especially people with disabilities.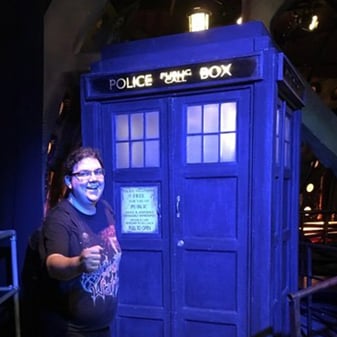 That passion eventually led him to the World Wide Web Consortium (W3C), where for seven years he contributed to important projects such as revamping the Web Content Accessibility Guidelines (WCAG) quick reference guide and developing the W3C's web accessibility tutorials. In a meta form of accessibility, Eggert, raised in Germany, also participated in the effort to translate WCAG into German.
Now 37 years old and serving as accessibility testing lead for the Texas-based nonprofit Knowbility, Eggert is eager to educate as many people as possible—and proud to be considered a trusted voice. By humbly accepting the title of "expert," he hopes to set an example for others who may be less comfortable carrying that mantle.
"I try to use those words to make them more acceptable," Eggert says. "I want people to come and do the same thing right now, so they can say, 'Oh, yes. I'm an expert. I identify with that.'"
Like so many others who have contributed to digital accessibility, real-world experiences influenced Eggert's career path. Growing up in Germany, Eggert was limited in his participation in high-energy activities because of his asthma. But it was the experience of one of his best friends that left an indelible mark. As someone who used a wheelchair, his friend was forced to attend a different school than his able-bodied contemporaries, including Eggert, who recognized the exclusivity of the practice.
"Even as a child, I was like, 'this is unfair,'" he says, "because we couldn't hang out as much as we wanted to."
After discovering web standards as a teen, Eggert found a burgeoning digital accessibility community at the University of Vienna, where he studied media informatics.
"It was a relatively exciting time to get on with the topic. That was the challenge that I liked. I didn't see that it would, like, grow so much—really enormous growth in who makes websites," Eggert says.
That growth, however, came with a surprising revelation.
"I think the biggest challenge in accessibility is that education hasn't caught up, and so a lot of people don't learn the basics," he adds. "I didn't expect that."
Indeed, Eggert says he's still "basically teaching the same things" despite more than a decade of educating others. For example, he estimates that every week he tells someone to use heading and alternative text properly. Having helped translate WCAG into German, Eggert jokes he'd like to make it available in "human," too, so its guidelines were more easily understood and applied for website developers who may not have the time to digest the complexities of the resource.
In some ways, Eggert is frustrated by the slow progress, underscored by research indicating that 98 percent of websites remain inaccessible. He likens it to a specific episode of "Doctor Who" titled "Heaven Sent," in which the hero, trapped in a castle and eternally pursued by a mysterious cloaked figure, must escape through a wall harder than diamonds.
"And that's how I often feel about accessibility," Eggert admits. "It's like this thing where nothing goes forward, ever, and you walk against those walls. You just have to punch, and then you try again."
That isn't to say he's some cynic. Consider this tweet that jumped on a popular Inauguration Day meme:
WCAG 2 + all supporting documentation.

(Sorry.)

(Alt: President Biden sitting next to a really voluminous book, an arrow pointing at the book.) https://t.co/Go5PsPsZDw

— Eric Eggert (@yatil) January 21, 2021
Eggert playfully mocks the complexities of WCAG 2.0 but also includes alt text for the image, an accessibility best practice the original Twitter user neglected to add.
"You're basically not helping anyone to do accessibility by being just annoyed at how things are," Eggert says. "I think if you're (not) taking it with humor, you can only get grumpy, and nobody wants to be inspired by that."
Currently, he inspires the next generation of accessibility experts in a variety of ways. For one, Eggert shares his knowledge through blogs, social media posts, and videos (you can find all his work at yatil.net).
The last of those came about as a 2020 project in which Eggert discusses common topics related to accessibility on his YouTube channel and posts the full transcripts on his website. It's a way for him to educate a wider audience by providing simple advice. Consider Eggert's video, "Three quick tips to achieve your 2021 accessibility goals." Among his recommendations: always add the language (for example, "en" for English, "de" for German) to the HTML, everything interactive needs an accessible name, and use landmark regions. He explains all three in detail while presenting each in a straightforward way. Viewers can take the information, apply it, and make their website more accessible.
"The thing I try to do [is] to make my training materials… [and] make my learning public," Eggert says. "I like teaching, and this YouTube series is one way to just experiment with stuff and use my skills that I hopefully have to give something back to the community."
Then there are his contributions as a remote lecturer at FH Joanneum, the second largest college in Austria, where he teaches "Accessibility and Multi-Screen Design" as part of the institution's Content Strategy Master's Program.
"They sign up because they want to learn about all things content strategy, but they always feel very open to accessibility. I always get this feedback that, 'Oh, this is great. I hope I get to implement that. I've never thought about the web as an accessible medium.'" Eggert says. "Those are the people that go into companies and spread the gospel of accessibility."
The philosophy speaks to his belief that teaching accessibility can't be project-based. It must be human-based to improve the web for practitioners and users alike.
"(I want to) give all the feedback I can to get people to understand accessibility more and make it more approachable, because that should always be our goal: Simpler and better," Eggert says. "Make it so more people can do it."