Claim and Verify this Listing
Are you an employee of or associated with Retired Brains? Claim this page to update and verify the information in your listing.
Claiming this listing also enables us to notify you when the community leaves any feedback on this listing.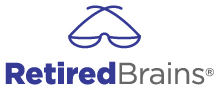 Retired Brains
Website: retiredbrains.com (opens in a new window)

Retired Brains is the most comprehensive independent resource website for baby boomers, those planning their retirements, and active retirees on the Internet. We specialize in helping baby boomers, retirees, and those planning their retirement be happy, healthy and prosperous. The best retirement advice should take quality of life, financial stability, and opportunities for continued growth into account. This is why we formulate the best retirement advice based on providing resources to help make retirements not only manageable, but also active and fun. Retired Brains is proud to be the best retirement advice website since 2003...and we continue to compile value-adding retirement advice to make sure baby boomers and retirees enjoy every opportunity to make their retirements, and lives, count to the fullest!
Suggest An Edit
Are you familiar with Retired Brains? Suggest an edit for this listing. Listings can include contact info, social links, embedded videos and more. Just let us know what you would like to include in this profile.
Share Your Experience
Are you familiar with Retired Brains? Please share your experience and provide feedback to help others considering this service.
All feedback is vetted for authenticity before being published.
Request Feedback From Others
Use these share links to request others familiar with Retired Brains also share their experience.