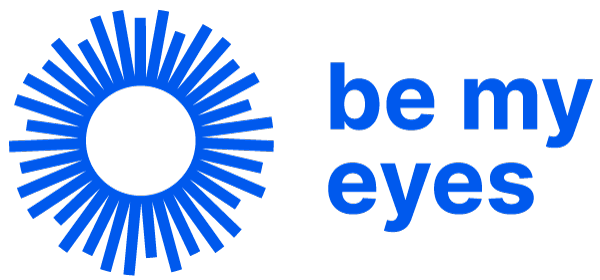 Be My Eyes
Website: bemyeyes.com (opens in a new window)
Email: info@bemyeyes.com

Be My Eyes is a free mobile app with one main goal:
To make the world more accessible for blind and low-vision people. The app connects blind and low-vision individuals with sighted volunteers and companies from all over the world through a live video call.
Since launching in January 2015, more than 4,000,000 volunteers have signed up to assist blind and low-vision users. Be My Eyes users can request assistance in more than 180 languages making the app the biggest online community for blind and low-vision people as well as one of the largest micro-volunteering platforms in the world.
4,000,000+ Volunteers
200,000+ Blind & Low-Vision Users
150+ Countries
180+ Languages


Every day, volunteers sign onto Be My Eyes to lend their sight to blind and low-vision individuals to tackle challenges and solve problems together.
Volunteers assist Be My Eyes users with tasks ranging from reading prescriptions to making sure their shoes match—and everything in between. While those everyday requests are incredibly important to the low-vision community, Be My Eyes also enlists the biggest names in technology and commerce to reach more people on the consumer level and bring a measure of accessibility to customer service and user interface.
Be My Eyes Enlists 'Specialized Help'
Beginning in 2018, Be My Eyes added "Specialized Help" to its mobile app. This option connects users with businesses and organizations that are equipped to meet blind and low-vision needs related to products and services.
"Contacting customer support through email or by phone isn't always ideal," says Hans Jørgen Wiberg, creator of Be My Eyes. "Direct communication with a business's customer support agent could be a more vision-friendly alternative and less time consuming for you. If someone from the company could see the issue in real time, issues with their products or services could be resolved more efficiently."
Microsoft and Google joined the Be My Eyes platform to make their customer support centers more accessible to blind and visually impaired users.
With Microsoft, users who access Specialized Help work directly with a member of the Microsoft Disability Answer Desk to resolve issues with Windows PC or another Microsoft product or service. As for Google, blind and low-vision users can contact the Google Disability Support team through a live video connection to address questions and access assistive tools and accessibility features for Google products and services.
Corporate partnerships with Be My Eyes are set to expand as more and more organizations recognize the need for comprehensive accessibility.
News and Opinions
Articles published around the internet about Be My Eyes.
In the age of coronavirus, it is more important than ever before to help the blind and low-vision community feel supported and safe.
In the oversaturated app market, one has reached a frequently neglected demographic: blind people.
Lloyds Banking Group is offering blind and partially sighted customers help with handling their finances through a smartphone app called Be My Eyes.
Share Your Experience
Are you familiar with Be My Eyes? Please share your experience and provide feedback to help others considering this service.
All feedback is vetted for authenticity before being published.
Request Feedback From Others
Use these share links to request others familiar with Be My Eyes also share their experience.